About the museum
The Gothenburg Museum of Art has one of the foremost art collections in Northern Europe. Works by masters such as Rembrandt, Picasso and van Gogh are shown side by side with works by contemporary artists such as Charlotte Gyllenhammar, Lina Selander and Cajsa von Zeipel.
Opening Hours
Tuesday 11 am to 6 pm
Wednesday 11 am to 8 pm
Thursday 11 am to 6 pm
Friday to Sunday, and holidays 11 am to 5 pm
Monday closed
The museum is closed on Christmas Eve, Christmas Day, New Year's Eve, New Year's Day, Good Friday, Easter Monday, May 1, June 6, Midsummer's Eve and Midsummer's Day.
On public holidays when the museum is open and the day before public holidays, the museum closes at 5 pm.
Important information:
Due to construction in the area around the Gothenburg Museum of Art, blasts occur at regular intervals. We therefore want to alert sensitive visitors.
Admission
We are a cash free museum. We only accept contactless Swish or debit and credit card payments.
Single entry
Adults 65 SEK.
Free admission
Visitors under the age of 20 years. Free admission for students (with student ID).
The Museum Card
Museum Card 140 SEK (valid 1 Dec 2022–31 Dec 2024)
Museum Card senior 120 SEK (from 63 years, with ID)
The Museum Card is valid at The Gothenburg Museum of Art, Museum of Gothenburg, The Maritime Museum and Aquarium and The Röhsska Museum. Additional admission charge is required for certain exhibitions and events. The Museum Card gives 20% discount on exhibitions with an increased entrance fee. The card is a valuable document and can only be used by one person. Lost card will not be replaced.
Buy the Museum Card and Single-Entry Ticket online
Now you can buy the Museum Card and Single-Entry Ticket online before your visit. Please note that a service fee of 10 SEK is added when purchasing Single-Entry Ticket online. Click here to buy your ticket.
Getting Here
The Gothenburg Museum of Art is located at the top of Kungsportsavenyn (the main street known as "the Avenue", Avenyn) in central Gothenburg, at the address Götaplatsen. The nearest bus stop is Götaplatsen. Also nearby are the tram stops Valand and Berzeliigatan, which is also a stop for the airport bus to and from Landvetter Airport.
Parking
There is parking facilities just near by in the Lorensberg Parking House (P-hus), which is accessed from Berzeliigatan. There are some stray parking spots on the streets around the museum; Viktor Rydbergsgatan, Ekmansgatan, Geijersgatan and Johannebergsgatan.
Museum Store
Are you interested in art, photography, architecture, fashion, popular culture, cooking or design? Are you looking for that special gift that shows that you have put extra thought into making someone happy? Then you have come to the right place! Read more about the museum store
Contact
Phone receptionen: +46(0)31-368 35 00
E-mail: info.konstmuseum@kultur.goteborg.se
Eat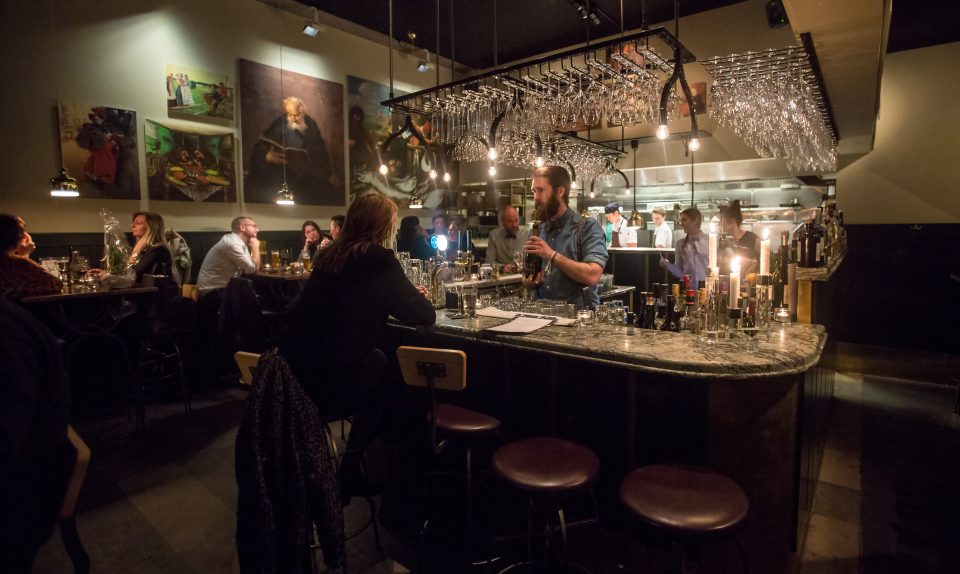 During the evenings Mr P Restaurant offers dishes with influences from all over the world and when the museum is open you can have a cup of tea or coffee.
Accessibility
Where can you store your bag? Is there an elevator in the museum? Does the museum offer guided tours in sign language? Here is all the information you´ll need to know to prepare for your visit
Note! Currently limited accessibility if a lift is needed
We are currently experiencing technical problems with two of our lifts. For visitors in need of a lift Upper Floor and Middle Floor in the exhibition Wonderful Colour. Gothenburg Colourism in a New Light can not be reached.
Access to wi-fi
In the museum you have access to the "culturewifi-free" wireless network, which does not require a login with user data.
Top Image: The Sculpture Hall, Gothenburg Museum of Art Photo: Kalle Sanner.